Home
Whitebear Media Server / Renderer
Description

Whitebear Media Server is a very specialised Media Server application, that is specifically designed to interface with Logitech's Squeezebox music server (Squeezebox Server).

Media Server

Whitebear is a UPnP (Universal Plug and Play) and DLNA (Digital Living Network Alliance) compatible Digital Media Server (DMS) that acts as a front end for Logitech's Squeezebox Server. This enables UPnP/DLNA compliant Digital Media Players (DMP) to access, browse and play tracks from your Squeezebox Server library.

Media Renderer

In addition Whitebear is an individual UPnP/DLNA compatible Digital Media Renderer (DMR) that acts as a front end for each Logitech Squeezebox player that it finds in your home audio network. This enables UPnP/DLNA compliant Control Points to control and play music files on the respective Squeezebox player by means of the "Play To" context menu.

Download

You can download the Setup program to install Whitebear Media Server here
Software Pre- Requisites
Whitebear can be installed either as a Windows stand-alone executable, or as a Windows service. Whitebear Media Server requires Windows XP, Windows Vista or Windows 7, and also Squeezebox Server to be installed (and running) on your machine.
Transcoding Support
Whitebear can transcode music files from AAC, AIF, ALAC, APE, FLAC, MOV, MP3, MP4, MPC, OGG, WAV, WMA and WVP format to players capable of playing PCM, MP3, WAV and FLAC formats.
Screen Shots
Here you can see an example of music files being shared by Whitebear on Windows Media Player 12...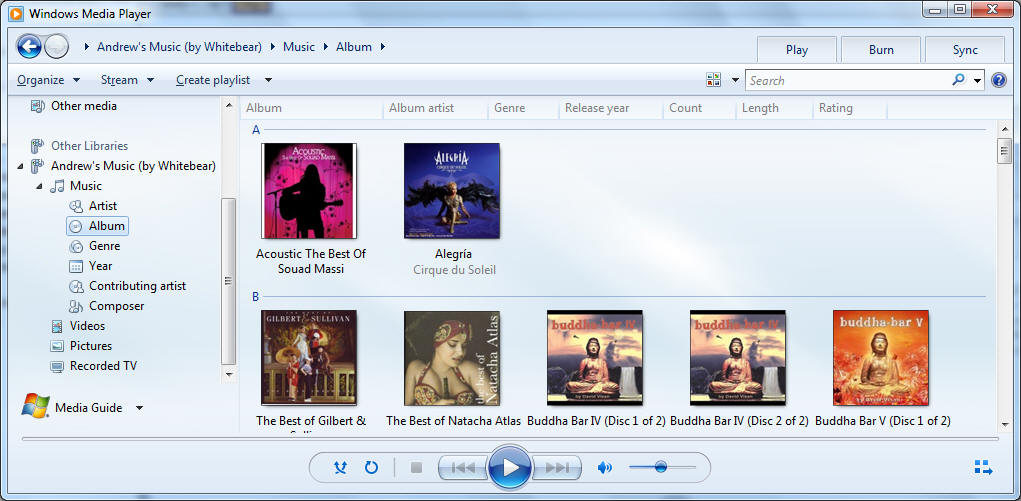 Here you can see how Whitebear makes your Logitech Squeezebox players available in the "Play To" menu of Windows Media Player 12...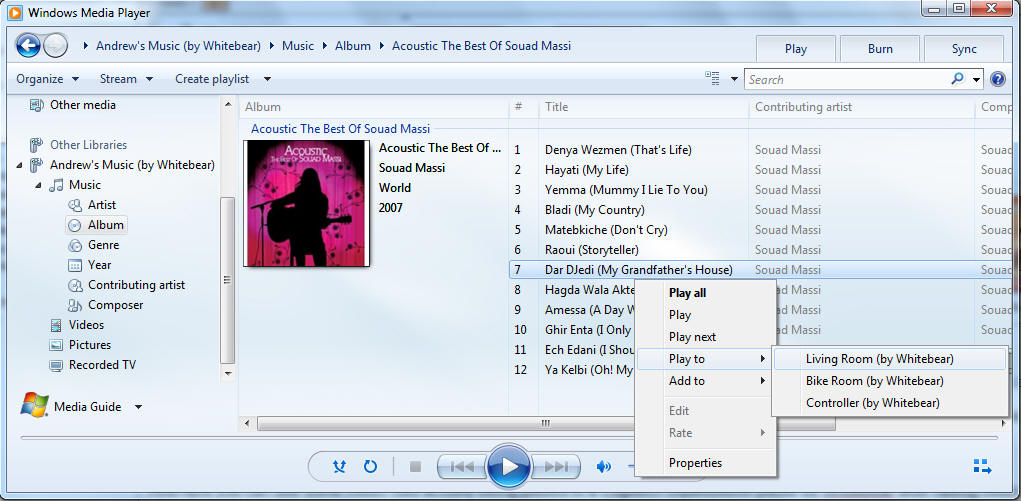 And here you can see some music files actually being played to a Logitech Squeezebox player by Whitebear after having been selected by the "Play To" menu of Windows Media Player 12...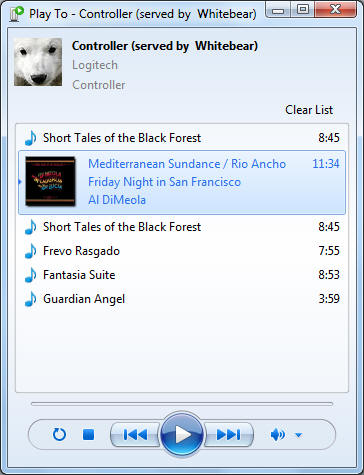 Firewalls
In order to be visible from other computers, Whitebear must be given access through your firewall. If you use Windows Firewall, then the Whitebear setup program will make the necessary changes in the firewall settings. However if you use a firewall other than Windows Firewall, you will probably need to make the necessary firewall adjustments manually.
Note: Whitebear relies on the UPnP communication framework. This means that on both your server and connected client computers, the respective Windows UPnP services must be turned on, and the respective ports also opened up on the firewall.
Forum
Follow the forum discussion concerning Whitebear on the Squeezebox Community Forums: http://forums.slimdevices.com/
Current Version
The current version is mentioned in the Revision History below. This version of Whitebear Media Server is fully functional, but nevertheless it may still have some minor glitches. Please feel free to try it out and kindly please give me feedback via the link below.
Improved in this Version

The Play To functionality has been substantially re-engineered. The interworking with J. River Media Center has been greatly improved. A Squeezebox Server plugin has been added so that players now support track meta data and album art on the Play To function. Some bugs in the UPnP discovery functions have been fixed. And browse tree now includes a Random Tracks folder, and an Artists | All Songs folder.
Known Issues
The following are known issues, not yet solved:
On the Oppo BDP-83 blu-ray player, track tags and album art are not displayed.
Revision History
v2.5.0.3212 dated 2012-10-27: support for: xbox, playlists (.m3u, .pls), SetNextAvTransportUri; improved PlayTo and UPnP test compatibility
v2.4.0.2890 dated 2012-07-30: web server performance improvements; added multi-client eventing support; extended support for Apps
v2.3.0.2691 dated 2012-06-23: added Artist name at higher levels of the browse tree
v2.3.0.2687 dated 2012-06-09: added Artists | All Tracks browsing; improved Play To; support for HD WAV & AIFF; timeouts to prevent freezing
v2.3.0.2669 dated 2012-05-21: tweaked Play To to support a wider range of WAV files
v2.3.0.2662 dated 2012-05-05: changed GetProtocolInfo results for renderers in order to improve media quality on Play To rendering
v2.3.0.2637 dated 2012-04-17: fixed Http Date header; tweaks to log output formatting for GENA
v2.3.0.2626 dated 2012-03-25: compatibility fixes for Kinsky
v2.3.0.2604 dated 2012-03-11: fix to tray monitor heartbeat issue
v2.3.0.2600 dated 2012-03-10: improvements in Play To functionality, display of meta data on Play To; fixes to UPnP discovery
v2.2.2.2196 dated 2011-12-10: UPnP announcements made on all NICs including LocalHost
v2.2.1.2179 dated 2011-12-06: cosmetic tweak
v2.2.1.2175 dated 2011-12-04: improvements to transcoders; improved exception handling of invalid characters and track types
v2.2.1.2126 dated 2011-11-02: improved user interface on tray monitor; added icons on content directory browse tree; improved client compatibility with Intel test tool; bug fixes to plug-in browse tree.
v2.2.0.2040 dated 2011-10-22: bug fix for memory leak and threadlock problem.
v2.2.0.2002 dated 2011-10-11: fixed browse tree; improved client compatibility; cached transcoder files; search function improved; tray monitor improved.
v2.1.0.1673 dated 2011-05-28: support for browsing Favorites.
v2.1.0.1647 dated 2011-05-12: many minor improvements.
v2.1.0.1433 dated 2011-02-19: many fixes.
v2.0.1.1051 dated 2010-11-13: many fixes to: install dependencies, tray monitor, sorting album tracks, DLNA protocol information, transcoding, compatibility with Intel and Foobar control points, performance, power management, logging.
v2.0.1.949 dated 2010-10-08: fixed bug when Squeezebox server requires authentication.
v2.0.1.935 dated 2010-10-03: improvements to the "Play To" feature; usability improvements to Tray Monitor, and added Status page
v2.0.1.803 dated 2010-09-05: support for "Play To" on Squeezebox players; network stability improvements; setup program improvements
v2.0.1.650 dated 2010-08-21: support for Playlists; Windows Media Media 12 support for "Play To" & wake-on-lan; fixed multi-tasking issue
v2.0.1.621 dated 2010-08-17: transcoding support from APE
v2.0.1.598 dated 2010-08-11: fixed many small bugs; extended transcoding coverage
v2.0.0.527 (beta) dated 2010-07-27: corrected albumArtURI profile ID; improved SystemUpdateId detection
v2.0.0.522 (beta) dated 2010-07-25: extended icon support
v2.0.0.513 (beta) dated 2010-07-24: beta release of v2.0
v1.0.1.170 dated 2009-06-09: latency issues reduced
v1.0.x.xxx dated 2009-05-10: first public release.